Ready Made and Custom Pieces
On my site you can place orders for custom pieces and reach me with inquiries under the "Custom Creations" tab and look through ready to ship pieces!
What It's All About
Couture, bespoke, handmade, slow fashion crochet pieces that cater to the Hotties✨🔥
You are art, adorn yourself accordingly 💖

Outfits for ravers, Go-Go dancers, Pole dancers, Creatives, Influencers, and hotties the like!

lingerie sets, bikinis, perfect for personal desires and gifts!
Skull crop top, spider sweater sleeves, custom sweater for Boo the dog
"I spotted an amazing crocheted skull crop top on instagram that I knew I needed, and Jess made it happen, even better than I could have imagined—and to top it off, added these spider web sweater sleeves that I could layer on for the ultimate goth babe vibe! I absolutely love it and I can't wait to wear it dancing because it stays in place and fits perfectly even when I'm moving a lot!

After scoring my treasured crochet skull crop top, my sister loved it so much she asked if this talented human was able to create a custom holiday sweater for our dog, Boo! Jess is such a sweetheart and was happy to help bring our vision to life—I left the design totally up to her and it's the cutest sweater EVER, she even added a little collar and trim around the sleeves and bottom! Her attention to detail is beautiful, and the quality in each piece feels excellent. The sweater is perfect, washable, and now my dog is officially a hot girl… I can't wait for my next Hot Girl Handcraft creation!"
-Kayla Joy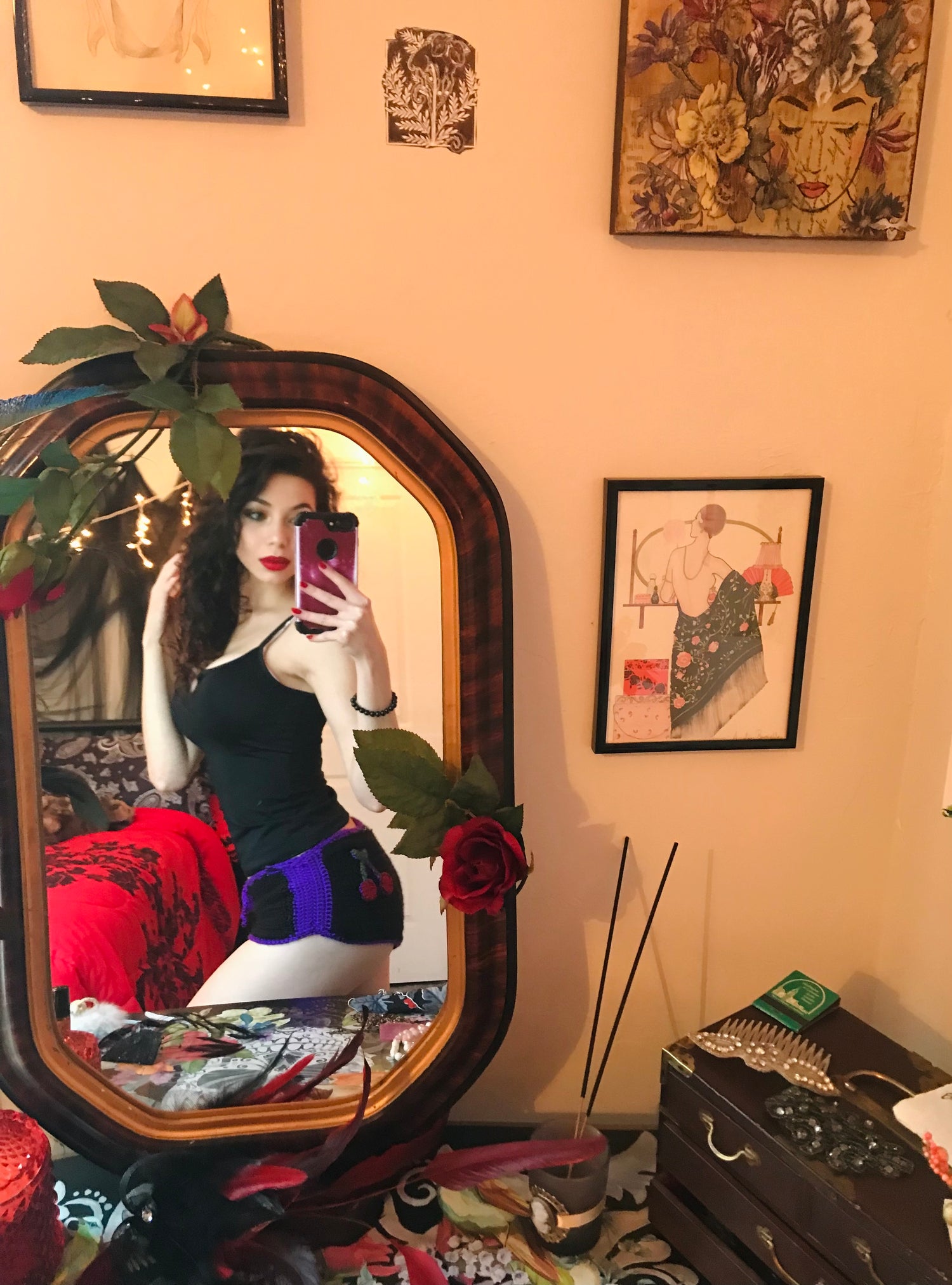 Cherry Shorts
"These are both the most comfortable and flattering booty shorts I own!! I love the color contrast and the cherry emblem on the back as well. I just have to find a roller disco to show them off now :)"
-Francesca Lupo